Harsh Goenka gets slammed for alleged sexist tweet
---
Team Udayavani, May 19, 2021, 2:27 PM IST
Harsh Goenka, chairman of RPG Group, landed himself in trouble after posting a tweet regarding the respective divorces of billionaires Bill Gates and Jeff Bezos.
In the now-deleted tweet, Goenka wrote, "Bill Gates divorced. Jeff Bezos divorced. Moral: Don't earn so much money that the wife finds divorce alimony more appealing than the husband. Keep spending money on yourself."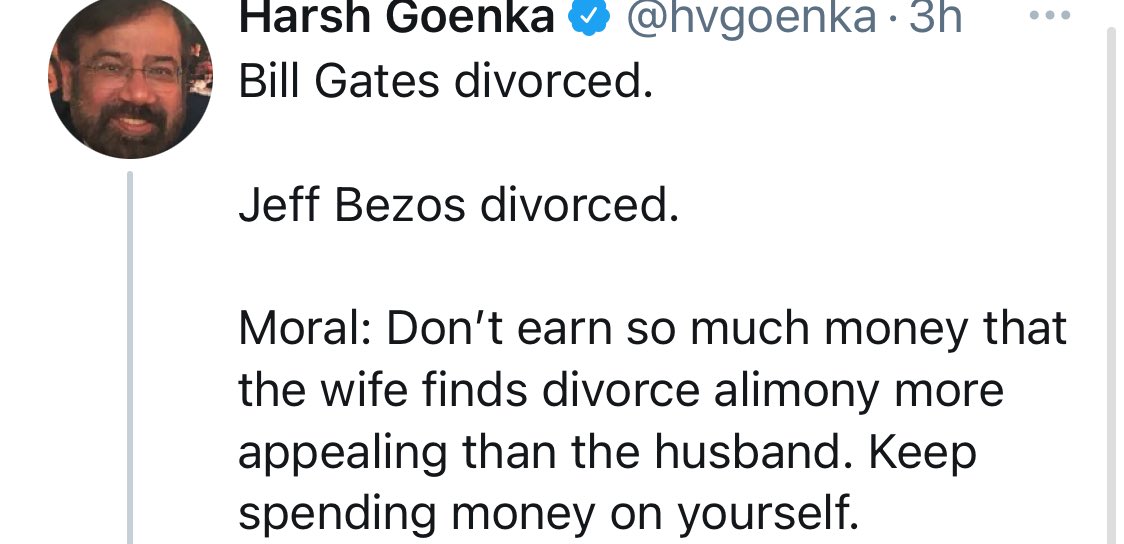 Goenka wasn't spared for the tweet and was labelled sexist and misogynist by many social media users.
Imagine being a blue tick verified industrialist in India and making these sexist jokes. On Twitter. In 2021. This would be seen as a major sm policy violation in my organisation. Definitely worthy of a dressing down

— Purrkaj Caturvedi blog 🙀 🏳️‍🌈 (@citizenbolario) May 17, 2021
You are so sexist. Women are not gold diggers. Those men are not being divorced *for money*

— Vidya (@VidyaKrishnan) May 17, 2021
This is seriously sexist. Damn seriously!!!

But Indian will be okay with it…. Bade aadmi ne bola hai aur aadat bhi hai.

— PSB (@Puninder) May 17, 2021
Humor often reveals our true self. We end up giving away who we truly are and what is our core belief, when we share what we find worthy of making a joke.

Such a misogynistic post @hvgoenka

— Arfi Laamba (@arfilaamba) May 18, 2021
I know it's a joke but an unfair one. It assumes women whose spouses get rich have their eyes more on alimony.

— Kartikeya Tanna (@KartikeyaTanna) May 17, 2021
That's really in a bad taste. There's no gyaan in it, neither it's funny.

— simran ✨ (@simranxsays) May 17, 2021
Goenka's tweet comes at a time of unconfirmed reports stating that Bill Gates had extra-marital affairs while married with Melinda.
Udayavani is now on Telegram. Click here to join our channel and stay updated with the latest news.
Top News
Related Articles More
MUST WATCH
Latest Additions