Karan Patel takes a dig at Kangana Ranaut , calls her 'most hilarious stand-up comedian'
---
Team Udayavani, May 5, 2021, 1:46 PM IST
Bollywood actress Kangana Ranaut has been drawing flak for saying that people who were using oxygen cylinders during the COVID-19 second wave were forcibly removing oxygen from the environment.
She had tweeted, "Everybody is building more and more oxygen plants, getting tons and tons of oxygen cylinders, how are we compensating for all the oxygen that we are forcefully drawing from the environment? It seems we learnt nothing from our mistakes and catastrophes they cause #Planttrees."
Further added, "Along with announcing more and more oxygen for humans, governments must announce relief for nature also, people who are using this oxygen should also pledge to work on improving the air quality, for how long we going to be miserable pests only taking never giving back to nature."
Taking to his Instagram stories, Karan Patel, actor, wrote, "This woman is the most hilarious stand up comedian this country ever produced."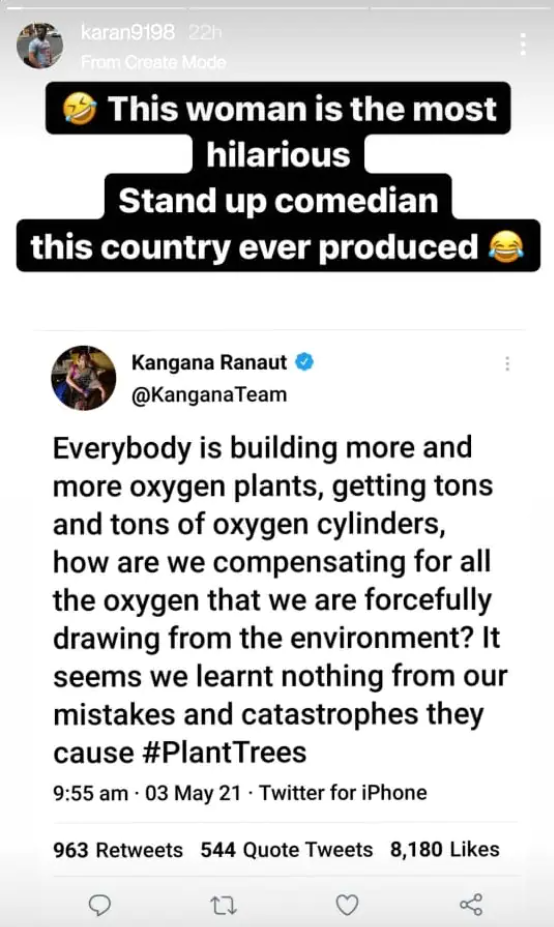 Kangana's account was permanently suspended on Tuesday, May 4 for repeated violations of rules, specifically its "Hateful Conduct and Abusive Behaviour policy.
Ranaut, known for her often inflammatory tweets, posted several messages following the Mamata Banerjee-led Trinamool Congress' win over the BJP in West Bengal and incidents of post-poll violence.
Udayavani is now on Telegram. Click here to join our channel and stay updated with the latest news.
Top News
Related Articles More
MUST WATCH
Latest Additions